Honolulu, Hawaii, 15 April 2012.- On his second full day in Hawaii, His Holiness the Dalai Lama participated in a panel discussion on "The Importance of Native Intelligence in Modern Times" with Native Hawaiian leaders and spoke about peace at a sold-out public talk. He also gave an interview to Renee Montagne of National Public Radio (NPR). His Holiness responded to questions about the possibilities of bullies in schools changing themselves, his impression about Hawaiian culture, as well as about the current situation in Tibet. This interview is being aired in NPR's Morning Edition program on April 15, 2012.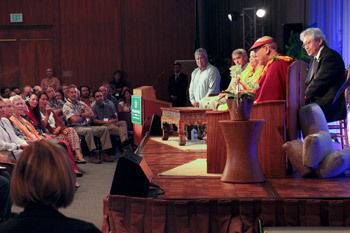 His Holiness the Dalai Lama and fellow panelists at the East West Center at the University of Hawaii, venue for the Hawaiian cultural panel entitled "The Importance of Native Intelligence in Modern Times" held on April 15, 2012. Photo/JHook/Civic Beat
Thereafter, His Holiness went to the East West Center where Mr. R. Brian Tsujimura Chairman of the Board of Governor of the Center, received him. As His Holiness entered the venue of the panel discussion, he was welcomed with traditional Hawaiian chants. His Holiness inquired about the meaning of the chant before going to the stage.
The topic of the panel discussion was "the Importance of Native Intelligence in Modern Times, and His Holiness' co-panelists were Dr. Pualani Kanahele, writer and expert on Hawaiian cultural practices and Mr. Nainoa Thompson, President of the Polynesian Voyaging Society. The discussion was moderated by Mr. John De Fries, president of Friends of the Future that focuses on Native Hawaiian cultural practices. He began by requesting His Holiness to share his experience after a day and a half's stay in Hawaii this time.
His Holiness responded by saying that at the level of a human being, he was impressed with the smile of the Hawaiian people, both old and young. He then expanded on his view on culture saying that it was an evolutionary one. In Tibet, the Tibetan culture evolved on account of the particular environment there and similarly in Hawaii its culture evolved with its connection to the sea. He said in general a small community that has not had an easy life develops a sense of community heritage unlike developed urban areas where people are almost becoming like parts of a machine. His Holiness said that it was good that the Hawaiian people were able to keep alive their culture.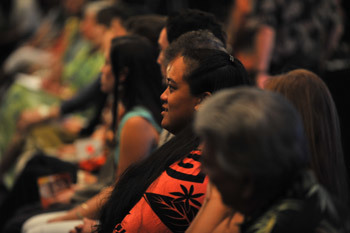 Some of the audence members attending the Hawaiian cultural panel entitled "The Importance of Native Intelligence in Modern Times" held on April 15, 2012. Photo/Jhook/Civic Beat
Thereafter, the two co-panelists talked about their own experience in what the Hawaiian culture meant to them and the challenges they see their community facing. The moderator talked about the research that Dr. Pualani Kanahele had undertaken among which was the finding that there were more than 400 names for cloud in the Hawaiian language.
The moderator then requested His Holiness to explain if there was any relation between his concept of a universal responsibility and the discussion they were having. His Holiness said that universal responsibility was at a different level, at the level of humanity. He said it meant developing a sense of oneness of humanity, without letting the difference in nationality, color, race, religion, etc., divide the people. He said that he found this spirit of oneness among scientists irrespective of their background. Similarly, it was also present in the religious tradition, too. His Holiness felt that if people only thought of the "small we" then problem would arise. Instead they should think about the "big we" that that is global, he said.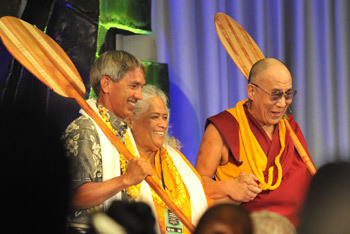 His Holiness the Dalai Lama is presented with traditional canoe paddles during the Hawaiian panel entitled "The Importance of Native Intelligence in Modern Times" held on April 15, 2012. Photo/Jhook/Civic Beat
His Holiness suggested that the Hawaiian people could preserve their culture while not looking at modern technological development as totally a negative thing. Technological development has brought comfort while culture was more related with the mind, he said. He said certain cultural heritage were useful and needed to be preserved. Some other cultural values may not be any use in daily life now and could be put in museum.
At the end of the discussion, Mr. Nainoa Thompson presented His Holiness with a specially commissioned paddle. Appreciating the gift, His Holiness said it was symbolic as a Buddhist text compared the precious human life to that of a boat, which was to be used as a vehicle to cross the ocean of suffering.
In the afternoon, His Holiness made brief remarks at the luncheon for dignitary and partners. Hawaii's Governor, Neil Abercrombie, greeted His Holiness and presented him with a proclamation declaring April 15, 2012 as "Dalai Lama Day." Among others present at the luncheon were Honolulu Mayor Peter Carlisle and former Hawaii governor George Ariyoshi.
In his remarks, His Holiness referred to the presence of Governor Abercrombie who is a former member of Congress and acknowledged the support of the United States Senate and House of Representatives to Tibet. He said this support was a source of hope to the Tibetan people. He then said if we look at the Tibetan problem at a local level then the situation may appear to be hopeless, but from a wider perspective there was hope. He said the Tibetan Buddhist culture, which he termed a culture of peace, culture of compassion, and culture of non-violence, was something worthwhile to be preserved for the benefit of the world.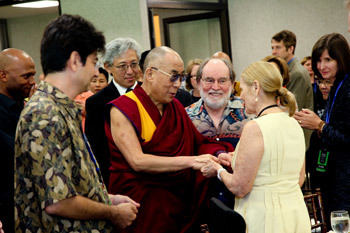 His Holiness the Dalai Lama greets Governor Neil Abercrombie and his wife, Dr. Nancie Caraway, following the Hawaiian cultural panel held at the University of Hawaii on April 15, 2012. Photo/Eye of the Islands Photographer
He said the environmental aspect of the Tibetan issue that needed to be paid close attention recalling that some Chinese scientists have termed Tibet as a Third Pole.
His Holiness, therefore, suggested that he referred to those who supported the Tibetan issue as not being "pro-Tibet" but being "pro-justice." He talked about the difference between the power of truth and power of gun. He said the power of gun was only short term and limited whereas the power of truth was always there and for the long run. He talked about increasing interest in Tibet among Chinese people many of who were interested in the Tibetan Buddhist culture. He said that historically Tibetans have our own language, script and geographically separate and racially different (from the Chinese). Tibet was materially backward and all Tibetans want modernism. Therefore, he felt that the Chinese authorities should look at the example of India where diverse linguistic and cultural communities exists in different parts of the country without any risk of separation. His Holiness however blamed the narrow-minded Chinese leftist policies that were the cause for the continued problem in Tibet.
His Holiness also talked about his democratization of the Tibetan community in exile. He said that in 2001 Tibetans began a period of directly elected leadership with Prof. Samdhong Rinpoche being elected for two terms. He said he had then become semi-retired. He then felt the situation encouraging and said that in 2011 he had voluntarily, happily and proudly handed over his legitimate political authority to the elected Tibetan leadership. He said now the small Tibetan community in exile was more advanced than China in terms of democratic administration and suggested that we could be a small example (to China.).
Thereafter, His Holiness went to the Stan Sheriff Center, venue of his Public Talk, "Advancing Peace through the Power of Aloha." Singer songwriter Michael McDonald, formerly of The Doobie Brothers, and Hawaiian musician Henry Kapono were performing "What the World Needs Now Is Love Sweet Love" to the audience as His Holiness walked on the stage. His Holiness greeted Governor Neil Abercrombie who drew his attention to the sister of President Barack Obama, Maya Soetoro-Ng, among the audience.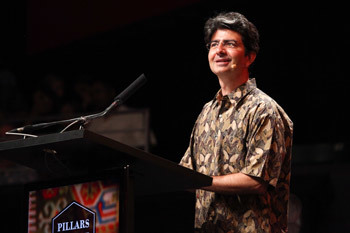 Pierre Omidyar introduces His Holiness the Dalai Lama before HIs Holiness's talk at the Universiy of Hawaii's Stan Sheriff Center on April 15, 2012. Photo/Eye of the Island Photography
A video of an especially composed music by Jake Shimabukuro, ukulele virtuoso, was played. Thereafter, Mr. Kelvin Taketa of the Hawaii Community Foundation welcomed everyone and hoped that the people gathered here would find inspiration from the event. Mr. Pierre Omidyar then introduced His Holiness. Relating a brief biography of His Holiness, he said he had to flee Tibet in 1959, the same year as Hawaii entered into statehood. He said His Holiness inspires everyone through the example of his life. He then explained the philosophy of the spirit of Aloha as being that of kindness, unity, joyfulness, humility and patience. He added that those familiar with His Holiness' messages would see the similarity. He added that for the people of Hawaii His Holiness was an embodiment of the spirit of Aloha.
His Holiness began his talk by highlighting the fact that everyone gathered here the same human being, mentally, emotionally and physically. He said this kind of mental thinking was helpful in bringing together people.
His Holiness said although he had been to Hawaii a few times, this time he was able to speak to a large number of people. He said he found his program with student yesterday meaningful.
His Holiness said that prior to being explained the deeper meaning of Aloha he did not have much understanding of the concept. He said although the term appeared simple the challenge was in implementing the real meaning of the concept.
He said basically everyone wanted happiness and that was his or her right. He said all living things, including trees and plants, have the right to survive.
His Holiness the Dalai Lama speaking during his talk 'Advancing Peace through the Power of Aloha' held at the University of Hawaii on April 15, 2012.
Photo/JHook/Civic Beat
He then said he wanted to explain his thought by talking about happiness and joyfulness as being results, which depend on certain causes. He said at the human level, joyfulness and happiness entirely depends on ones own action, physical, verbal and mental. He said the mental action is the key factor.
His Holiness said that in order to have a successful life, attention needed to be paid to education or training. But education itself is not the goal. He said if one wanted good health, taking medicine or some vitamins were causes for positive results.
Therefore, His Holiness said that generating wrong causes and expecting positive results was unrealistic. Talking about his own experience, His Holiness sai although he began his study around the age of six or seven, he had no interest in study till the age of 13. However, it was only later in his life that he found the knowledge gained from his study immensely helpful for cultivating peace of mind.
His Holiness said it was essential to have realistic goals. He recalled an event in the Indian State of Bihar where the Chief Minister said at a function that he was hopeful that the state would develop on account of the blessings of the Buddha. When the turn came for His Holiness to speak then, he said he told the Chief Minister, whom he knew well, that if the state's success depended merely on the Buddha's blessings it should have developed a long time back as the Buddha was there more than 2000 years back. He said it was essential that the Buddha's blessings should be channeled through the action of the Chief Minister. His Holiness said that prosperity has to come through action, not prayers.
Therefore, world peace must come through inner peace, His Holiness said. He added that at the individual level, a healthy body was very much linked to a healthy mind. His Holiness recalled a meeting with an American scientist a few years in Stockholm, Sweden who told him that when we develop anger, the object of anger appears very negative. The scientist had added that actually, 90 percent of that negativeness is mental projection. His Holiness said that Buddhism also talked about a similar state.
His Holiness said that people should try to develop proper mental attitude through training of the mind. He said any decision under strong emotion often becomes wrong as much emotion is actually biased.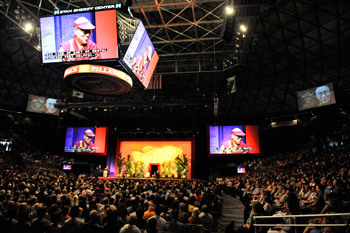 University of Hawaii's Stan Sheriff Center, venue for His Holiness the Dalai Lama's talk entitled 'Advancing through the Power of Aloha' held on April 15, 2012. Photo/JHook/Civic Beat
His Holiness cited the case of the global economic crisis. He said he had asked some people to explain how things went wrong because people involved in the business were supposed to be experts. His Holiness said he received the response that it was account of too much greed. Too much greed is an unrealistic desire, he said. He was also told that too much speculation and lack of a holistic view were also responsible for the crisis. These were all related to the mind, he added.
Here His Holiness talked about President George W. Bush. He said he really love him and that he is a really nice person. His Holiness said during the Congressional Gold Medal award ceremony, he was walking hand in hand with President Bush and Speaker Nancy Pelosi. President Bush had mentioned that they (the democrats) were always creating problems for him but that today they were peaceful. His Holiness said although he loved and respected President Bush, it did not mean that he agreed fully with the President's policies. His Holiness said he had mentioned this to the President himself. His Holiness said President Bush' motivation concerning Iraq was very good: to bring democracy and rule of law. However, the method became unrealistic and so failed to achieve that noble goal.
His Holiness said the real basis of inner peace was warm-heartedness. Once we develop warm-heartedness, that kind of attitude, automatically develops respect, he said. He said fear brings about distrust and that love and compassion help dispel distrust. He said once anxiety is reduced and distrust reduced, one develops more compassionate feeling toward others.
He said love, compassion, affection are at two levels. One level is biological and is biased. His Holiness said that type of compassion could be taken as the seed and then utilizing human intelligence, using our common sense, and most important, through scientific findings, one can work on inner peace. That is realistic compassion and is unbiased, and also brings good health, he said. This can begin at the family level and then at the level of the community.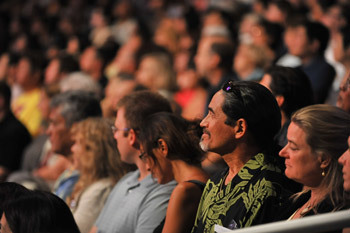 Some of the more than 9,500 audience members listening to His Holiness the Dalai Lama at the University of Hawaii's Stan Sheriff Center before his talk on April 15, 2012.
Photo/JHook/Civic Beat
His Holiness said all major religious traditions carry this practice, but now we need to find an approach that is universal. He talked about his friend, Richard Moore, who lost his sight to a rubber bullet shot by a British soldier. However, he did not have any anger or hatred towards the perpetrator and in fact went on to establish friendship with the soldier. His Holiness that Richard Moore wasn't really religious but had developed this kind of attitude as a human being. His Holiness said he always described him as his hero. He added that human beings have that kind of ability. These positive mental attitudes are not based on religious belief, he said adding that he usually called this secular ethics. He said many people essentially are non-believers. He said therefore we need a universal way to approach this universal value. If we rely on a particular religious faith, it will never be universal, he said.
His Holiness said the 20th century was a wonderful century, but it was a century of bloodshed. He said that we needed to try to build this century as a century of dialogue and peace. His Holiness said that this does not mean that there would not be any problems in this century. Touching on the back of his head where the brain is located, His Holiness said as long as it was active there would be problems. He added that we must find ways to tackle these problems, not through the use of force, but through talk, with respect, listen to others' point of view.
His Holiness said Hawaii's small community could make a contribution through the spirit of Aloha. It could start a pilot project in one school to incorporate education about the value of non-violence in the curriculum. He said then after five years, it could examine the experiment and expand accordingly. That's the way to change the way of thinking in our society, he said. Through that way you can build a happy, peaceful society. The initiative must come from the individual, he added.
He said human beings create the problems in this world and so human beings themselves should find the solution. He asked the people not to feel helplessness. He asked them to help create inner peace and to share the feeling with more people, including friends and enemies. That's the way to transform our world, he said.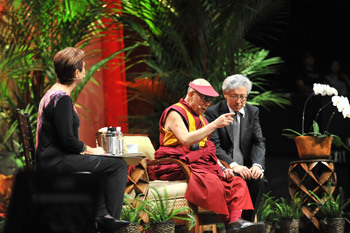 His Holiness the Dalai Lama answering question after his talk 'Advancing Peace through the power of Aloha' held at the university of Hawaii on April 15, 2012. Photo/JHook/Civic Beat
Thereafter, His Holiness answered some questions submitted to the organizers. To a question on how to handle a situation where one is making effort for peace but others don't seem to reciprocate. His Holiness said it was important to bear in mind that the effort for peace was there because there were problems. One should not lose hope but continue with one's efforts. That way one could influence others, he said. His Holiness talked about his experience with his gall bladder surgery where because of complications it took more time than scheduled. However, his recovery was fast and the doctor had called him "young patient." He said the doctor had told him that his physical condition was that of a person younger than his age. His Holiness felt this could be because of his inner mental calmness.
To another question about repentance and forgiveness, His Holiness said one should no to differentiate between forgiveness and "forgetness." He said if one forgets then there is nothing to forgive. Forgiveness, however, does not been one should accept the wrongdoing. Here he asked the people to make a distinction between the action and the actor.
Another question asked how indigenous communities who have become strangers in their own land and are surrounded by their oppressors act. His Holiness said people have every right to preserve their identity. But there was also the need to take a look at the reality of the situation. In the case of Tibetans, His Holiness said we have adopted the Middle Way, which is non-extreme, practical and realistic. He said there was the need to think broadly. He said today's world has become such that it was unrealistic to think of remaining isolated.
When asked how happy can one be, His Holiness said that happiness could be at different levels, one at the level where even animals experience it and another at a higher level.
He said there was a need to take a multi-dimensional look at any development to get a complete perspective. He gave the examples of the Tibetan people. He said although he lost his country and the people were undergoing a tragedy, yet there was a positive aspect to the development. He said it opened the Tibetan people's eyes. Personally, too, His Holiness said the development led to his spending the past 53 years in exile, in India, and he had got the best of experience in this period.
Similarly, presently Tibetans are located in the Tibet Autonomous Region as well as the provinces in Yunnan, Sichuan, Gansu and Qinghai, he said. On account of the Chinese policies, Tibetans in all these regions have developed a sense of unity.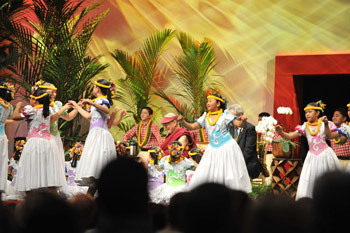 A group of young children perform the hula after His Holiness the Dalai Lama's talk at the University of Hawaii on April 15, 2012. Photo/JHook/Civic Beat
Following the talk a group of children performed a graceful Hula dance, surrounding the area where His Holiness was sitting. Thereafter, Mr. Kelvin Taketa said that in the spirit of transparency he wanted to inform the public that income from the event went to bear the cost related to it. He said His Holiness does not take speaking fees or financially benefit in other ways
The event concluded with Hawaii's Governor Abercrombie coming on stage to present a souvenir of a paddle to His Holiness on behalf of the people of Hawaii. Mr. Pierre Omidyar also presented His Holiness with a wooden drum on behalf of the Pillars of Peace Hawaii.
On April 16, 2012, His Holiness will be addressing students in a local high school on the subject of compassion.