Mumbai, India, 17 September 2014 - The Tata Institute of Social Sciences (TISS), whose motto is "Re-imagining Futures", is one of India's most reputed post-graduate social science institutions. Today, TISS invited His Holiness the Dalai Lama to a Special Convocation at its main campus in Deonar, Mumbai as the Chief Guest. He was received at the door by Director, Prof S Parasuraman who escorted him to the auditorium. Everyone stood for the Institute Song.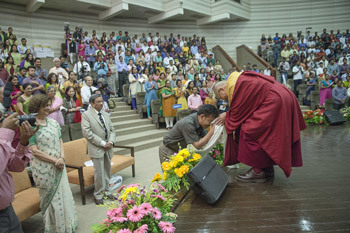 His Holiness the Dalai Lama greeting a member of the audience on his arrival at Tata Institute of Social Sciences' Special Convocation in Mumbai, India on September 17, 2014. Photo/Tenzin Choejor/OHHDL
In his introductory address Prof Parasuraman explained that as part of its vision to be an institution of excellence, TISS had developed several innovative and path-breaking courses. The Special Convocation held today celebrated the graduation of students from several of these first-of-a-kind programmes. Among these the School of Law, Rights and Constitutional Governance has developed a three semester LL.M programme in Access to Justice.
Acknowledging that water and sanitation play a key role in human well-being and overall social development, TISS, in collaboration with the Water Sanitation and Hygiene section of UNICEF, has developed a course leading to India's first Post-graduate Diploma in Water Sanitation and Hygiene. Meanwhile, the Centre for Lifelong Learning has created a one-year, part time weekend Diploma programme in Counselling to facilitate the adult working population. Also offered is a one-year, part-time Diploma programme in Youth Development and Social Change.
The fully digitized Sir Dorabji Tata Memorial Library has offered a Post-graduate Diploma in Digital Library and Information Management to cater to the growing need for trained library and technical professionals in modern digital libraries. The School of Media and Cultural Studies has developed a Diploma in Community Media.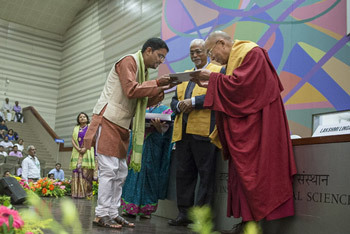 His Holiness the Dalai Lama handing out degrees to the first batch of Master of Law in Access to Justice graduating students at the Tata Institute of Social Sciences in Mumbai, India on September 17, 2014. Photo/Tenzin Choejor/OHHDL
Prof Lakshmi Lingam invited His Holiness to award the degrees and he presented certificates to 13 candidates for Master of Laws (LL.M) in Access to Justice, who came up to the stage. The remaining 76 graduates stood in the body of the auditorium to be granted their Diplomas together to warm applause. As Prof Lingam wished them all the very best in life, His Holiness nodded his head in approval. Next he was requested to award the Gold Medal to the best student in the LL.M programme and shields to the best students in the diploma programmes.
In her introduction to His Holiness, Prof Lakshmi Lingam listed some of the awards he has received such as the Nobel Peace Prize, the Congressional Gold Medal and the Templeton Prize, but also mentioned his participation in the International Campaign to Abolish Nuclear Weapons. She said it was a privilege for today's graduates to receive their degrees from him and that TISS was very happy he was able to come. She then invited him to address the assembly.
"Respected, learned, experienced scholars and brothers and sisters," he began, "I always stress that as human beings we are all the same. I don't care about different social rank or class, which is not important. There are differences of race, faith and culture among us, but these are secondary in comparison with the fact that mentally, emotionally and physically we 7 billion human beings are the same. We all have a human brain and like other sentient beings we share a desire for peace and happiness. Achieving a happy life and avoiding suffering is one of our basic rights."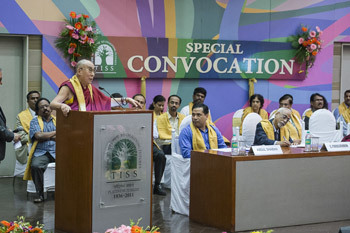 His Holiness the Dalai Lama speaking at the the Tata Institute of Social Sciences' Special Convocation in Mumbai, India on September 17, 2014. Photo/Tenzin Choejor/OHHDL

He pointed out that because of our intelligence human beings are uniquely capable of not only creating problems, but doing so on a large scale. Therefore it is important that we use our intelligence in a constructive way. We need warm-heartedness and concern for others to do so.
Smiling at the graduates he said:
"I congratulate you all. I expect that when you sat your exams you felt a mixture of anxiety and excitement. I remember my own final exams when I was both apprehensive and excited, unsure what questions would be put to me in debate. What is important now that you have your degrees and diplomas is whether you use your knowledge to help others or not. That will depend on your motivation. The knowledge and skills you have acquired can be very useful. Justice and law, for example, are accorded an important role in India, the world's most populous democratic country."
He went on to praise India for the stability it has displayed since independence in comparison with several of its neighbours. He also remarked that among the world's ancient civilizations, including Egypt and China, India seems to have produced far more great thinkers. Claiming to be a product of the Nalanda tradition himself, he noted that there is much in ancient Indian knowledge, such as its understanding of the workings of the mind and emotions, which is compatible with modern science today. He said that as a Buddhist he engages in prayer, but that he believes in the long run that we will solve our problems not through prayer alone, but by taking action. If we are to take action, we need vision. He suggested that for development to be effective in India it must take place in the rural areas, which means that educational and health facilities in rural areas must be improved.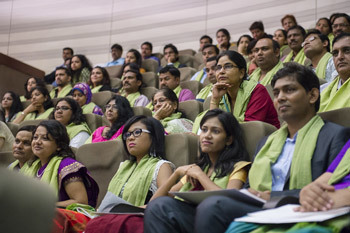 New graduates listening to His Holiness the Dalai Lama speaking at Tata Institute of Social Sciences' Special Convocation in Mumbai, India on September 17, 2014.
Photo/Tenzin Choejor/OHHDL
Recalling his own Buddhist education that began with the memorization of texts at the age of seven, he sometimes wondered what it was for until he understood it was about transforming the mind and emotions. Tackling our destructive emotions like anger and hatred entails developing positive emotions like love and compassion. This is something that also interests modern psychologists and neurologists today.
His Holiness expressed his admiration for India's longstanding secular tradition of unbiased respect for all religious traditions and the ethical values they convey. It's a model on the basis of which India can lead the world. He also voiced his belief that modern education is oriented towards material success rather than the fostering of inner values. He reiterated the need to limit destructive emotions and to nurture positive ones while developing a sense of concern for the well-being of all human beings.
"Does this make any sense?" he asked. "If it does, tell others about it. If it doesn't, then just let it go."
His Holiness was presented with an inscribed plate as a memento of the occasion and Prof Neela Dabir delivered a vote of thanks. She congratulated all the graduates and offered heartfelt thanks to His Holiness as the Chief Guest for his presence and for the inspiration he had brought to the occasion.
After lunching with the TISS Director Prof Parasuraman and other faculty members, His Holiness paid a visit to the nearby Lilavati Hospital where he has received care and treatment in the past. Dr Trivedi, Dr Chulani and other members of hospital staff met with him in the board room and enjoyed friendly conversation over tea before His Holiness returned to his hotel. Tomorrow he will attend the 108th Foundation Day of the Indian Merchants' Association (IMA) and the Ladies' Wing of the IMA.