Oxford, Ohio, USA, 21 October 2010 - On October 21, 2010, His Holiness the Dalai Lama received an honorary degree, an international leadership award, and gave a major public talk to 10,000 people in Miami University, located in Oxford in the state of Ohio.

In the morning Miami University held a special function in its Hall Auditorium to honor His Holiness the Dalai Lama with an honorary degree of Doctor of Law in front of an invited gathering of over 500 students, faculty and their guests.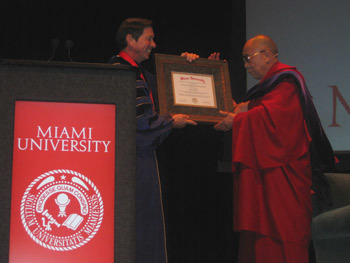 Miami University confers an honorary degree of Doctor of Law on His Holiness the Dalai Lama on October 21st, 2010. Photo/OHHDL
Dr. David C. Hodge, President of Miami University, made a welcome remark in which he talked about its partnership with the Tibetan Institute of Buddhist Dialectics. He said, "We are honored to welcome his Holiness the 14th Dalai Lama to Miami University and recognize his struggle to promote cultural understanding." He also gave an introduction to His Holiness' educational qualification listing all the subjects that had been studied. He then invited His Holiness to receive the degree saying,
"In recognition of your persistent nonviolent struggle to preserve the cultural rights of the people of Tibet; to explain the basic tenets of Buddhism to the world; to promote a greater understanding of our collective obligations to one another; to honor your receipt of the Nobel Peace Prize, the U.S. Congressional Gold Medal, and countless other awards and recognitions from all over the world; and to extend our appreciation for the opportunity afforded to Miami faculty, staff and students through our relationship with the Institute for Buddhist Dialectics, it is now my distinct privilege, on behalf of the Board of Trustees of Miami University, to award to you on this day, October 21, 2010, an honorary Doctor of Law degree from Miami University. Congratulations."
Thereafter, Mr. Harry Wilks, member of the Board of Trustees of Miami University, was invited to the stage. He had helped establish the Wilks Leadership Institute in Miami University to advance "the understanding and practice of the types of engaged leadership necessary for building a vibrant democratic society today and in the future."
Mr. Wilks presented the Leadership award saying, "Your Holiness, throughout history there have been a few individuals who have tried to bring compassion, peace and understanding to mankind. We have all heard, in our life time, of Mahatma Gandhi, Martin Luther King and Nelson Mandela, who have used nonviolence to achieve their aims. Today, we want to honor a man who has tried to bring peace, compassion and understanding between the various races, cultures and religions.
"Therefore, for his leadership in these endeavors, Miami University's Leadership Institute wishes to grant its International Leadership Award to his Holiness the Dalai Lama."
Chief of the Miami tribe welcomed His Holiness to "our homeland" saying that the Miami area is named after his tribe. A group of Miami University students, who are from the tribe, performed a song of welcome in their native language.
In his address to the gathering, His Holiness expressed his deep appreciation for the honorary award of Doctor Law joking that "I do not have expertise in legal studies." He also expressed his appreciation for the special relationship between Miami University and the Institute of Buddhist Dialectics in Dharamsala. He also expressed his appreciation for the welcome given by the Miami tribe.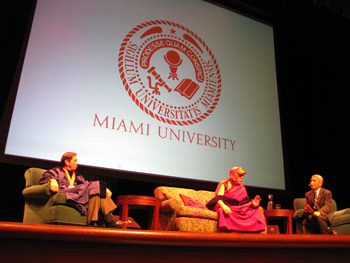 His Holiness the Dalai Lama speaking at the Hall Auditorium of Miami University on October 21st, 2010. Photo/OHHDL
His Holiness then talked about his two commitments of promoting human values and promoting religious harmony. He said today there is a new reality where there was interdependence in this world, whether on the economic or environment fields. He said this ended the century old feeling of "we" and "they." He called for the promotion of a genuine sense of harmony based on trust. He said it was better for all the spiritual brothers and sisters to work together for a better world.
Talking about cultural identity and global understanding, His Holiness said that culture has evolved through the times and in the process certain aspects of the heritage have become outdated. He said that cultural heritage was helpful to preserve people's spirits. His Holiness said he did not see any contradiction in the preservation of one's own cultural heritage and thinking about the world as a whole.
Thereafter, His Holiness took some questions from the audience. The questions included ways to expand the impact of the Tibetan programs beyond Miami University; what additional issues or subjects that students need to pay attention; and what contacts he had with Tibetans in Tibet. Among those who posed questions was a Chinese woman, who was identified by the media as a student of Miami University. She said she had visited Tibet and also Yushu areas and that the situation was not the same as the one that she has seen His Holiness describe in media comments. She said spiritualism was not enough as asked what His Holiness had done for the people in Tibet.
In his response to this question, His Holiness said that since many years he had been asking NGOs to help inside Tibet, particularly in the fields of education and health, that, too, in the rural areas as the conditions were poor there. That is the way he can help, he added.
As for the situation in Tibet, His Holiness said there is of course lots of construction, but he also receives information about the problems. He talked about speaking with a Tibetan medical professional who came out and informed him that while his salary, accommodation facilities were good and education of his children was not a problem, it was mentally overwhelming to exist as a Tibetan. His Holiness referred to the students' demonstration in the past two days (a reference to the protests by students in Rebkong protesting the decision to abolish Tibetan as a medium of instruction in schools there) saying that these do not were not out of happiness, but an indication of something lacking and of some grievances.
His Holiness then gave a detailed explanation of his meetings with Chinese leaders in 1954 when he visited Beijing. During one of the several meetings with Chinese leader Mao Zedong in which senior Beijing officials as well as two Generals stationed in Tibet were present, His Holiness said Mao told him that these generals were sent to help Tibet and if they do not follow his instruction then Mao wanted to know so that he can recall them.
He said Mao also told him that China was helping Tibet now because Tibet was poor but that after 20 years when Tibet has developed it would be Tibet's turn to help China. He also said Mao inquired whether Tibet had a flag and when His Holiness said we had one, Mao told him that he could keep the flag in addition to the Chinese flag.
On his return to Tibet in the summer of 1955, he had told the then Chinese General in Tibet that while leaving for Beijing he was filled with suspicion, he was now returning from Beijing full of hope.
His Holiness said if you really want to know the last more than 60 years or the last 1000 years of relationship between Tibet and China, she should do thorough research as she can then know.
In terms of contact with Tibetans in Tibet, His Holiness said that since 1980 (when Deng Xiaoping permitted Tibetans to go out of Tibet) around 30,000 Tibetans may have come out of Tibet. He said they were from various backgrounds and included students, businessmen, Communist Party members as well as officials (some who came secretly and some who came with permission). It was through them that he has been getting information. Similarly, there were tourists who visit Tibet who also talked about the situation in Tibet.
The last person wanting to ask a question was on a wheel chair and said that he had wanted to take a photo with His Holiness but that people have told him that it would be impossible because of the security around him. His Holiness responded immediately asking him to come to get a photo with him. Prior to His Holiness' remarks, the University's officials made presentations on two projects relating to Tibetan culture. The first was an online tool for teaching Tibetan that can be found on http:/ aims.muohio.edu/tcpp/. The next was a 3D Virtual Reality Mandala. These were undertaken in co-operation with the Institute of Buddhist Dialectics.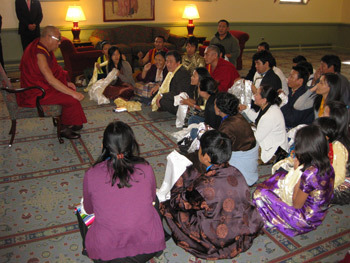 His Holiness the Dalai Lama meets with Tibetans living in Ohio and Kentucky during his visit to Miami University on October 21st, 2010. Photo/OHHDL
Following lunch, His Holiness gave a brief audience to around 20 Tibetan students and others who reside in Ohio and Kentucky. He inquired about their conditions and also recognized some of the elder Tibetans who used to work in different capacities in India.
Thereafter, he went to the Millet Hall, the venue of his public talk. He first briefly met with guests in a reception organized by the University. Thereafter, as he was announced the crowd in the stadium numbering around 10,000 gave him a rousing welcome. President Hodge gave a brief introduction of His Holiness, who spoke about Ethics in the Modern World.
His Holiness began by talking about his commitments to promote human values, to promote religious harmony, and to work for a solution to the Tibetan issue. He said politically since 2001 there is an elected leadership and so his position was that of semi-retirement.
His Holiness then explained the existence of three levels of ethics. The basic level involves avoiding things that threaten your survival and wellbeing. This is not related to religion and is also a trait that even animals share.
At another level, human intelligence is brought to bear upon the basic level. Consideration is given to short-term and long-term benefits and to create a discipline to things that harm us and to seek those that benefit us. This is the secular ethics and is not dependent on religion. At the third level is ethics that is related to religion. At this level the prescriptions will be specific to the religion that the individual subscribes.
His Holiness expanded on his view of secularism as respecting all religions and not being anti-religion. He gave the example of India's system where the Constitution talks about secularism even though many of its framers were deeply religious.
Some of the audience of over 10,000 in Miami University's Millet Hall that came to listen to His Holiness the Dalai Lama on October 21st, 2010. Photo/OHHDL
His Holiness emphasized the need for adopting a realistic method in our action. Referring to the Iraq and Afghan wars, His Holiness said while the motivation was good, the method used was not right and thus there were unexpected consequences.
His Holiness said a large number of the seven billion human beings were not believers, but they share the same desire as believers for a happy life. His Holiness talked about cultivating positive inner values and the promotion of dialogue to resolve conflicts. He said the 20th century was full of bloodshed and it was up to the students who belong to the 21st century to make it a peaceful century.
During the question session, His Holiness responded to questions about how the entire Muslim community was being projected, his view on compassion, how to combat negativity, similarities between Christianity and Buddhism and the role of education.
In his response, His Holiness explained why he feels the entire Muslim community is being wrongly targeted for the work of some mischievous people. He also said Christianity and Buddhism shared the common messages of the practice of love, compassion, forgiveness, tolerance, self-discipline and contentment. His Holiness also said he admired the contribution of Christian followers towards the spread of education throughout the world. At the same time, he said he also said the practice of proselytization was something that was not helpful in communities that have spiritual traditions. He said whenever he gave Buddhist teachings in the West he always made it a point to tell the people that it was better for them to stick to their traditional religions, mainly judeo-Christian. He referred to activities of Christian missionaries in Mongolia who were offering monetary enticement to the Mongolians, who are traditionally Buddhists, to convert.
His Holiness said the need for the existence of the different religious traditions with their different philosophies to satisfy the mental disposition of all the peoples can be compared to a restaurant serving different dishes. He said if the restaurant served just one kind of dish it would lose its customer base as they would not feel their needs were being met. He said just as physically a variety of food was beneficial, mentally a variety of spiritual tradition was beneficial.
His Holiness was given a standing ovation upon the completion of his talk.