New Delhi, India, 18 November 2010 - His Holiness the Dalai Lama was honoured with the Mother Teresa Memorial International Award for Social Justice by the Harmony Foundation at a ceremony held at the Taj Mahal Hotel yesterday.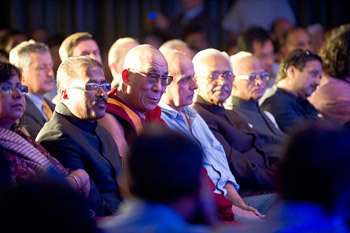 His Holiness the Dalai Lama is enjoys a performance at the opening of the Mother Teresa Memorial Awards Ceremony in New Delhi, India on November 18th, 2010. Photo/Tenzin Choejor/OHHDL
Speaking on the occasion, Dr Abraham Mathai, president of Harmony Foundation and Vice Chairman of State Minorities Commission, Government of Maharashtra said the Award honours His Holiness as "a living legend, a worldwide icon of conscience, a voice clearly heard over the din of conflicting values, and as a global voice for peace and social justice."
In his acceptance speech, His Holiness recalled his first visit to Mother Teresa's center in Calcutta where he said he was touched by the spirit of Mother Teresa which was still alive even in her absence. "And that's very important because even if she's not there, her followers are still fully committed in continuing her legacy in serving the poor and the destitute," His Holiness said.
His Holiness said all major religions have the same potential to cultivate and strengthen human values such as compassion, forgiveness, and tolerance. Mother Teresa, His Holiness said, was a Catholic nun whose inner strength came from her Christian faith. Faith not only brings individual well-being but also the willingness to serve others, His Holiness added.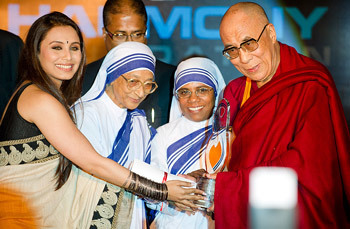 His Holiness the Dalai Lama receives the Mother Teresa Memorial International Award for Social Justice from actress Rani Mukherjee and sisters of the Missionaries of Charity in New Delhi, India, on November 18th, 2010. Photo/Tenzin Choejor/OHHDL
Speaking on the importance of cultivating inner values, His Holiness said material values have its own limitations as it provides only physical comfort. But a calm and compassionate mind brings inner well-being.
His Holiness said by and large many religious traditions have peacefully coexisted in India which he said was due to ancient Indian traditions of religious harmony and Ahimsa (non-violence). Arguments and debates happen between different viewpoints but that's understandable, His Holiness said.
His Holiness expressed his admiration for other award winners of the day saying their selfless and tireless commitment and dedication towards bringing justice and securing rights of the less privileged will go a long way in bringing development and change in India. But real transformation, His Holiness said, should begin from rural communities in India.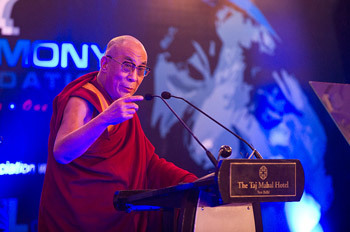 His Holiness the Dalai Lama speaking at the Mother Teresa Memorial Awards Ceremony in New Delhi, India on November 18th, 2010. Photo/Tenzin Choejor/OHHDL
The award was presented to His Holiness by two representatives from the Kolkata-based Sisters of Missionary, and actress Rani Mukherjee who said she felt extremely privileged to be in the same room as His Holiness as "only a chosen few get blessed by His Holiness."
The Harmony Foundation also honoured a host of other NGOs and individuals for their contribution toward peace, tolerance, equality, and social justice. Among them were Aruna Roy and her organisation Mazdoor Kisan Shakti Sangathan for Right to Information and empowerment of women and rural poor; Roy was a prominent leader of the Right to Information (RTI) movement which led to the enactment of the RTI Act in 2005.
Mr Colin Gonsalves, a senior advocate of Supreme Court of India for legal aid in addressing human rights; Sewa Ashram, an NGO for their work amongst the homeless destitute in Delhi; Dr Udit raj for Dalit empowerment and emancipation; Mr Y.P. Singh for his campaign against corruption in upper echelons of public service especially in the police and income tax departments; Ms Sumaira Abdulali for advocacy on noise pollution and environment. And Sayed Iqbal Haider, a former senator, federal minister of law and former attorney general of Pakistan was honoured for his activism in human rights.
Luminaries from the public life who attended the award ceremony included Justice J S Verma, former Chief Justice of India and Chairman of National Human Rights Commission; GVG Krishnamurthy, former Chief Election Commissioner; Dr T Sangliani, vice chairman of the National Commission for Minorities; Members of Parliament Milind Deora, Jose K Mani, Dr B Mungekar and Sanjay Patil; Tushar Gandhi, great grandson of Mahatma Gandhi; and Swami Agnivesh.
International guests at the awards included H.E. Mr Ahmad Tariq Karim, High Commissioner for Bangladesh; H E Mrs Khadija Radman Mohammed Ghanem, Ambassador for Yemen; Deputy head of delegation of the EU, Mr Pavel Svitil; Deputy Chief of Mission for Germany, Mr Christian-Mathias Schlaga; Deputy Head of Mission for Austria, Mr Raimund Magis of Austria; and Secretary Nathanael Silva of Brazil. Indian film director and noted human rights voice Mahesh Bhatt was also present.