Rochester, Minnesota, USA, 24 April 2012 - This morning His Holiness the Dalai Lama first gave an interview to Piers Morgan of CNN, who began by asking His Holiness about his health given his medical check up. His Holiness responded by saying that for the last seven years he has been having his annual check up at Mayo Clinic and that his basic physical condition is good.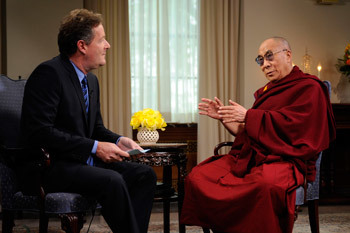 His Holiness the Dalai Lama and Piers Morgan during their interview in Rochester, Minnesota, on April 24, 2012.
Photo/Piers Morgan Tonight
His Holiness also answered questions about future of world peace, his views on the United States and President Obama, the self-immolations in Tibet, China's future, vegetarianism, movies, music, etc. This will be aired on Piers Morgan Tonight on April 25, 2012 night.
Thereafter, His Holiness met with the newly appointed President of Mind & Life Institute, Mr. Arthur Zajonc, and with its board of directors. His Holiness then went to participate in panel discussion on Resilience through Mindfulness organized by Mayo Clinic
Dr. John Noseworthy, president and CEO of Mayo Clinic, welcomed His Holiness. Thereafter, Dr. Amit Sood, chair of the Mayo Mind Body Medicine Initiative, spoke about their Resilience education and training program and its positive impact on patients. The Mayo Mind Body Medicine team has developed innovative practice models including meditation, and stress management and resiliency training programs, and integrated them into clinical practice at Mayo Clinic. He said the patients were trained about compassion, gratitude and morality. Dr. Sood's co-moderator was Dr. Daniel Goleman, Board Member of Mind & Life Institute. The panelists were Ms. Carla Paonessa, Mayo Clinic Leadership Board in Arizona, and Ms. Sherry Chesak, a nursing education specialist at Mayo Clinic.
In his initial remarks, His Holiness spoke of the importance of generating compassion by drawing attention to the need to adopt a proper approach in realizing goals of the training. He said enthusiasm must be accompanied by intelligence and note merely be blind faith. Quoting a Buddhist scripture, His Holiness said one should check whether one's goals are realistic or not. He said in order to have a realistic goal, one needs to understand reality for which the mind must be calm. He added that to have a calm mind, compassion was important. Compassion opens your heart, His Holiness said, adding that fear, anger, hatred, etc. narrows the mind.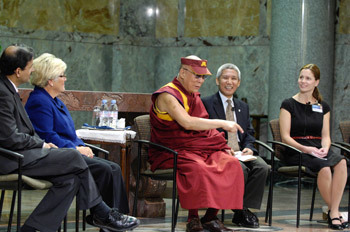 His Holiness the DalaiLama and fellow panelists during the discussion on"Integrating Mindfulness in Healthcare" at the Mayo Clinic in Rochester, Minnesota, on April 24, 2012. Photo/Gosha
During the discussion stage, when asked how he was able to keep his resilience despite the very many challenges he had to face, His Holiness said it was by being realistic. He quoted Buddhist Master Shantideva about there being no reason to feel sad if there is a way to overcome a challenge, and there being no use to feel sad if there is no way to overcome it.
When asked whether during his experience with the Chinese he was in any danger of losing compassion towards them, His Holiness detailed his feelings following reports of the Tibetan demonstrations in Lhasa on March 10, 2008. He said he was filled with anxiety upon learning of the situation in Tibet. In the subsequent days and weeks His Holiness did a specific Buddhist practice known as "the practice of giving and taking" (tong len); visualizing the Chinese as people with the same kind of desire to be happy and avoid suffering and having a sense of concern for their negative action. His Holiness added that such an approach may not be effective in resolving the problem, but it does help one to maintain a calm mind. He talked about his having serious intestinal problem resulting in physical pain during his travel to Bodh Gaya. As he was rushed back to the state capital Patna, His Holiness said as the state was one of the poorer regions, he noticed impoverished children as well as a poor person lying on a cot. This enabled him to practice his giving and taking and also it did not take away his physical pain his mental anxiety was reduced, he said.
When asked to suggest for ways to grow compassion in others, His Holiness said that modern life has become very materialistic and that people were more concerned about external development. He said the modern education system was also oriented towards materialism. Therefore, there was the need to promote inner values through education.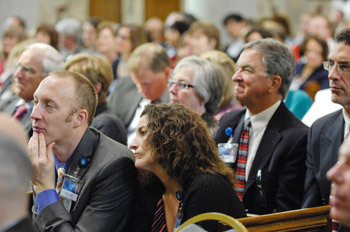 Members of the audience listening to the panel discussion with
"Integrating Mindfulness in Healthcare" at the Mayo Clinic in Rochester, Minnesota, on April 24, 2012. Photo/Gosha
In response to a question about how to generate compassion towards others who may be suffering and not to feel helpless, His Holiness said compassion could be at two levels. At one level, one might become aware of another's suffering and becoming concerned. At another level, one not only feels compassionate and concerned about the suffering of others but also wants to do something help overcome that. He said having the first level alone might lead to a sense of helplessness, but practicing the second level of compassion and thinking of ways to overcome the suffering of others would give new energy. His Holiness added that as human beings all of us have the capacity to rise up to this level of compassion.
Another question was about finding a meaning in suffering. His Holiness said that every suffering has a cause. He recalled some senior Tibetan monks coming to him at one time to seek his blessings to relieve some pain. His Holiness said that he had told them that as Buddhists our practice is to understand that life is full of suffering. However, since the monks are not able to get that understanding from their mental training, he had joked that their physical bodies are stepping in to send this message.
When asked about how to overcome challenges in the meditation process, His Holiness said that there were two types of meditation; analytical and single-pointed concentration. He said he treated the analytical meditation as more important as he is involved in this process in his daily life. He said he had not been able to involve in serious single-pointed meditation for sheer lack of time.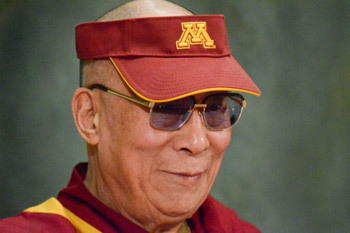 His Holiness the Dalai Lama wearing a visor with the Mayo Clinic Logo during the panel discussion with "Integrating Mindfulness in Healthcare" at the Mayo Clinic in Rochester, Minnesota, on April 24, 2012. Photo/Gosha
His Holiness was asked how one could learn to bear the burden of others without feeling overwhelmed. He responded that if one feels the work has been beneficial and meaningful, then there is no reason to feel discouraged. He said sometimes one might make years of effort ultimately resulting in nothing, but if the action has been done with the right motivation, there is no need to regret. He added that eventually any positive action would have beneficial consequences, sometimes visible and sometimes not visible.
His Holiness was informed about the feedback received from a patient (who had only three more months to live) about why she had not been aware of the resilience program earlier. He said that whether in the case of that individual or society in general negligence could be the issue that leads us to think of such programs only in times of adversity.
Summing up the feelings engendered by the discussions, His Holiness felt that there seems to be general agreement that inner values were important. He urged the people to think over this and said that it is our common responsibility to promote these values, beginning within a family then sharing with other families and expanding it further. He concluded that this was the way to change the society.
President Noseworthy concluded the session by appreciating the contribution of the panelist and thanking His Holiness for sharing his thoughts on the principles of mindfulness.
His Holiness the Dalai Lama with the six 2012 Francisco J. Varela Award winners in Rochester, Minnesota, on April 24, 2012. Photo/Gosha
In the afternoon, six young recipients of Mind & Life Institute's Francisco J. Varela Research Awards presented their findings from pilot projects to His Holiness in a session entitled "Latest Findings in Contemplative Neuroscience." The young scientists were Thorsten Barnhofer, Institute of Psychiatry, King's College, London (on effect of mind training on depression); Willoughby Britton, Brown Univeristy Medical School (on the nature and phenomenology of meditation-related difficulties); Norm Farb, Rothman Research Institute(on distinct brain systems supporting conscious experience); Baljinder Sahdra, University of Western Sydney, Australia(on effect of nonattachment); David Vago, Harvard Medical School(on process models for specific meditative practices that cultivate mindfulness); and Helen Weng, University of Wisconsin, Madison(on the effects of compassion meditation ontraining on the brain and altruistic behavior). Dr. Richard Davidson moderated the session with Dr. Thupten Jinpa.
The Varela Awards were established in 2004 as a companion program to the Mind and Life Summer Research Institute and have been a critical element in supporting the development of the Contemplative Sciences. Since inception, at least 62 articles have been published in peer-reviewed journals by Varela Awardees, with at least 14 additional articles under review and 46 in preparation. His Holiness then left Rochester for Chicago, IL, for his next leg of the current tour.
On His Holiness' arrival in Chicago airport, Mr. Tashi Tsering Phuri, President of Chicago TIBETcenter, and officials of Loyola University received him. His Holiness will be participating in events connected with the Nobel Peace Laureates Summit on April 25, 2012.