New Delhi, India, 23 March 2014 (Day & Night News) – Had Lal Bahadur Shastri, the second Prime Minister of India, lived for a few more years, he could have made significant contributions to the country, Tibetan spiritual leader Dalai Lama said here today.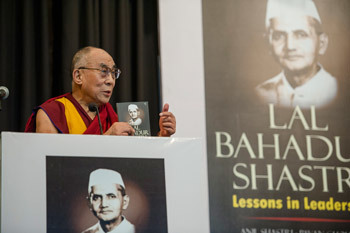 His Holiness the Dalai Lama speaking at the release of the book "Lal Bahadur Shastri - Lessons in Leadership" in New Delhi, India on March 23, 2014. Photo/Tenzin Choejor/OHHDL
"He led this nation courageously during the Indo-Pakistan war (of 1965) and, at the same time, was very committed to solving other problems. "I am quite sure that had he lived for a few years more, he could have made significant contributions to this country," the Tibetan spiritual leader said. He was speaking at the launch of the book, 'Lal Bahadur Shastri: Lessons in Leadership', a biography of the former prime minister which has been co-authored by Shastri's son Anil Shastri and Pavan Choudhary. "I think he truly represented the tradition of (India).
The values of this tradition of a thousand years was represented by him courageously. He was a wonderful, determined person," the Dalai Lama said remembering Shastri. Recalling his meeting with Shastri, he said, "I'm one of the admirers of Shastri. I met him when he was the prime minister. He was really a great man. There was a big contrast between his body and his mind! As far as I observed him, he was a very compassionate man." On the book that recollects the childhood, adult years and the public life of Shastri, the Dalai Lama said, "This small book may teach important lessons of life to everyone." Anil Shastri, who relates inspiring episodes from his father's life in the book, said that the former prime minister has left behind a legacy that is hard to match. "Shastriji's story is one that needs to be told at multiple levels. He has left behind a legacy that is hard to match.
When the book is read by millions in India, I am certain it will leave them inspired," Anil Shastri said. Educationist and columnist Pavan Choudhary described the subject of their book as "the original 'aam aadmi' who lived an unpretentious life and rose to be prime minister despite his humble background and without bending the rules". "I have highlighted those traits of Shastriji which made him the leader he was, a leader who taught us to live with dignity and honour," Choudhary added.