Guwahati, Assam, India - Following an uneventful flight from Dharamsala to Delhi yesterday, His Holiness the Dalai Lama this morning boarded another plane to fly across the country to Guwahati, the largest city in Assam. Minor but persistent turbulence during the descent to Guwahati were indicative of the weather on the ground—it was pouring with rain, which locals refer to as pre-monsoon. A crush of people, Assamese and Tibetan, eager journalists among them, had gathered to welcome him at the airport.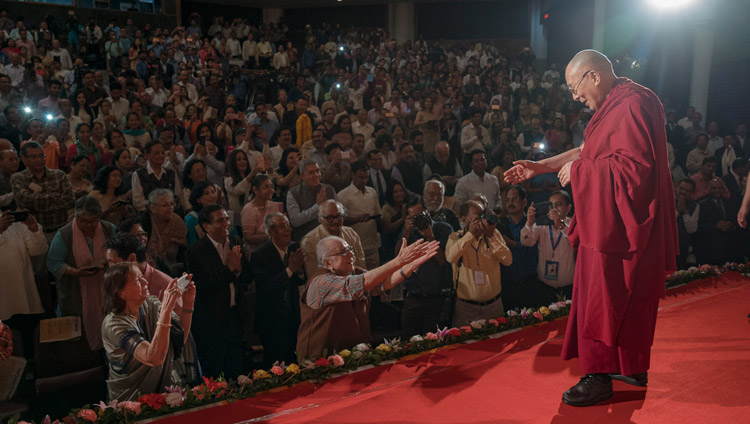 After lunch His Holiness drove to the ITA Centre for Performing Arts to take part in a concluding function of celebrations of the Platinum Jubilee of the Assam Tribune and the Golden Jubilee of its Assamese language sister paper the Dainik Asam.
His Holiness was introduced to the audience and welcomed with gifts that included a bouquet of flowers, a traditional wide-brimmed Assamese hat, which he said would be practical in the rain, a carved replica of the Kamakhya temple and a figure of the state animal, the one horned rhinoceros. He was invited to join the Governor, Shri Banwarilal Purohit, and the Chief Minister, Shri Sarbananda Sonowal, in inaugurating the occasion by lighting a lamp.
Director of the Assam Tribune group, Ms Babita Rajkohwa, declared it was an honour to welcome His Holiness to the anniversary celebrations. She observed that he began his life in exile when he entered the North-east India and that it was the Assam Tribune that first announced his arrival. She invited him to release two books, one a coffee table account of the Assam Tribune and the other a biography of the first editor and noted Assamese author Lakshminath Phookan.
In his welcoming speech, Chief Minister Sarbananda Sonowal spoke of the divine feeling and human values His Holiness brought to the occasion. He reminded the audience that he had promised the people of Assam good governance, which depends on efficiency, having a sense of quality and good values. He asserted that His Holiness's presence gave him strength to achieve these goals, describing him as a messenger of peace, harmony and human values. Finally, since the majority of the audience were involved with the Assam Tribune group of newspapers, he alluded to the media's important role as the fourth pillar of democracy, along with government, legislature and judiciary.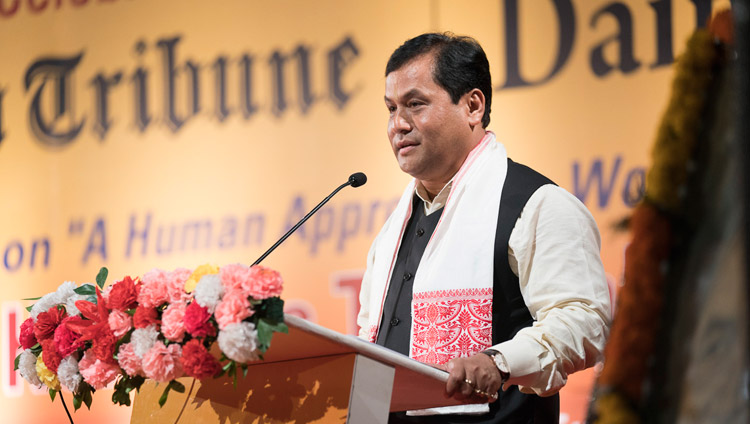 The Governor spoke amusingly of his addiction to reading the Assam Tribune with his morning tea, declaring it to be a wonderful paper. Switching to Hindi he recalled his own experiences of editing the Nagpur daily newspaper The Hitavada and the need to maintain a high standard of ethics.
His Holiness began his own address with an explanation that he always greets whoever he is speaking to as brothers and sisters because one of his main commitments is to promoting a sense of the oneness of all 7 billion human beings.
"In today's world we face a multitude of problems that we human beings have brought on ourselves. They include ongoing violence and killing, while elsewhere children die of starvation because of famine. As human beings how can we remain indifferent? Since the majority of these problems are our creation, logically we should be able to rectify them.
"The good news is that as a result of their research scientists have concluded that basic human nature is compassionate. This is a sign of hope. If it were otherwise and it was human nature to be angry, the situation would be hopeless. Therefore, I tell people that we are all the same in being human. We are physically, mentally and emotionally the same. The Governor and Chief Minister here were both born of a mother and when they each depart they will go the same way. The important thing is that while we are alive we shouldn't create trouble, but, recognising how other people are human like us, should cultivate concern for their well being. If we can do that there'll be no basis for cheating, bullying or killing other people.
"We have to make an effort to extend our natural compassion, not just through prayer or coining nice words, but by putting our intelligence to good use. That's how we'll become happy ourselves, living in a happy family, a happy community and a happier world. One of the things that distinguishes us as human beings is this ability to extend our natural feelings of karuna, compassion, to other human beings and ultimately to the whole of humanity."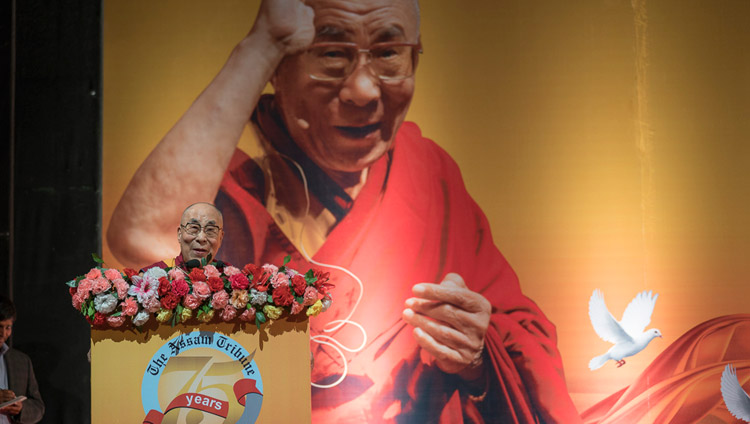 His Holiness remarked that in the introductions he had been referred to as the reincarnation of Avalokiteshvara and the 13th Dalai Lama. He said he had doubts about that, but what he did know was that the Tibetan Buddhist training he had undertaken had equipped him to use his intelligence to the full. It involved thinking and questioning, not just being a 'yes-man', but asking why? and how? This, he said, was the approach of the Nalanda tradition, the zenith of the Sanskrit Buddhism.
With regard to the Assam Tribune, he told the audience that photographs in today's special supplement reminded him of his passing through Tezpur in 1959 as he escaped Tibet. He was also moved by a picture of his mother and elder sister.
"In March 1959, after a huge demonstration in Lhasa against Chinese occupation I tried for a week to cool things down. But while I was doing that the Chinese military threat only grew. By 17th March there was no option left but to escape, despite the risks and dangers involved. We hoped that once we reached Southern Tibet there might be some opportunity still to talk with the Chinese, but from 20th March they began their bombardment of Lhasa.
"I sent representatives to India and Bhutan to explore whether we would be able to enter their territory. A messenger returned to tell me that India was waiting to receive us. It was a great relief on crossing the border to see my old liaison officer Mr Menon and my interpreter, Sonam Topgyal Kazi, waiting for us. I remember that moment as my first real feeling of freedom. People welcomed me warm-heartedly and a new chapter of my life began.
"Other refugees who streamed out of Tibet were gathered in camps at Misamari, where in April it was intensely hot. The priority then was to shift them to cooler places, but even so, right from the start we set about trying to preserve our knowledge and culture. With Prime Minister Nehru's help and support we established settlements elsewhere for them."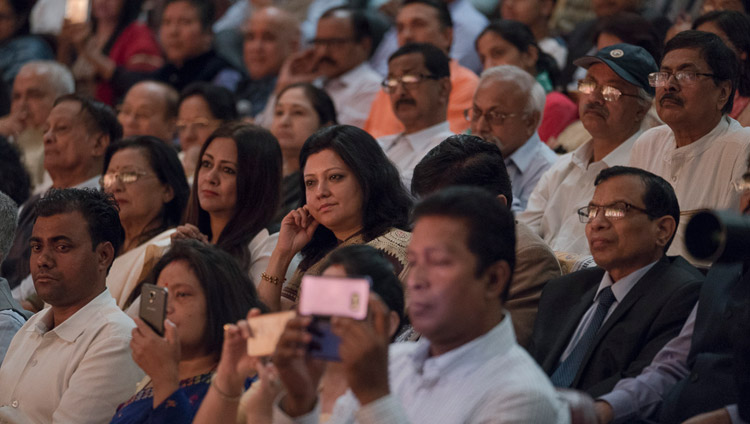 His Holiness remarked that it was when he made his first visit to Europe in 1973 that he became aware that high levels of material development did not necessarily bring happiness. He met too many people who were well-off but troubled by stress, anxiety and suspicion. He realized that the advice that happiness is dependent on being concerned for the welfare of others remains relevant in today's world too. He also began to appreciate the value of India's long-standing secular approach, maintaining an unbiased respect for all religious traditions. And while material development contributes to physical comfort, mental comfort depends on karuna, which expresses itself as ahimsa. This, His Holiness declared, is valuable and relevant to 7 billion human beings today.
He drew a distinction between those like him and the Governor who belong to the 20th century, an era that is past, and those who belong to the 21st century. The latter, who are the younger generation today, have a responsibility to make this century an era of peace. It will involve learning to tackle emotions and developing a more compassionate mind. It will require turning away from divisions into 'us' and 'them'. His Holiness said there is an urgent need to resolve problems and disputes through dialogue rather than taking up weapons. The ancient India understanding of the workings of the mind and emotions can make a crucial contribution to this.
Before answering several questions from the audience, His Holiness concluded:
"I came first to attend the Buddha Jayanti celebrations in 1956 and returned to India in 1959 as a refugee. Now, 58 years later I've become the longest guest of the Government of India. I agree with what both the Governor and Chief Minister have said about a need for human values. They are quite right. And I'd like to express my appreciation of the welcome I've received today, right from the moment I stepped out of the plane. Thank you very much."
Tomorrow, he will give a public talk at Guwahati University in the morning and attend a Namami Brahmaputra Festival in the afternoon.